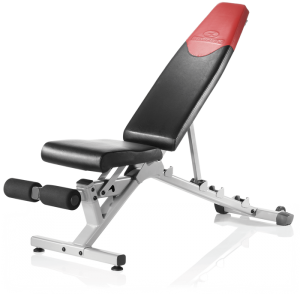 When you are looking for a fitness machine that guarantees superior performance and is space saving at the same time, you can consider buying the Bowflex SelectTech 4.1 bench series. This is essentially an incline-cum-decline bench which is adjustable; it can be adjusted up to five different positions. The machine is marketed as a rather useful addition to a workout station. It offers a high degree of workout versatility and great positioning support. You can simply adjust this bench to any of these five positions and experience new and strong exercises. In other words, you can enjoy the benefits of a personal fitness center with equipment like this. The machine is fitted with wheels which offer easy mobility and storage.
Reasons to use the Bowflex SelectTech 4.1 bench:
Adjustability: This machine can be adjusted in different positions allowing you to workout according to your individual capacity and convenience. You can enjoy positions at angles of 30 degrees, 45 degrees, 90 degrees and decline or flat positions.
Durable: The machine is built strong; the heavy-duty commercial steel construction guarantees durability and strength.
Safe to use: The unique design of the equipment guarantees correctness of posture. It stabilizes positioning so that the user can enjoy a hassle-free and safe workout. There is a removable brace to hold the leg down which gives additional position support.
Storage: Since the machine comes with transport wheels, it can be moved from one place to another easily. It is also easy to stow away when you are not using it. Since it offers a versatile exercise routine, this machine is ideal for fitness enthusiasts who do not have much floor space at home to accommodate large gym equipments.
Warranty: The machine comes with a 15 year warranty for the frame and a year for the upholstery.
Bowflex has radically transformed the shape of fitness in the last two decades by launching unique space-saving and efficient workout machines for affordable prices. The company has been making a continuous effort to come out with more and more innovative machines which can guarantee comprehensive cardio and strength training workouts. Being priced at under $200, the Bowflex SelectTech 4.1 bench has been designed as an effective fitness center which is ideal for your home gym, especially suited for barbells, dumbbells and smith machine usage. Since it is made using heavy-duty commercial steel, it is capable of holding an entire load up to 480 lbs. the construction is superior and the workout bench is absolutely safe for use by everyone. It promotes and corrects posture or your workout form; this is important because it ensures that you are safe when you work with free weights like the adjustable dumbbells. The removable leg hold-down brace gives extra support when the user is in a decline position. The wheels help you to store it away or easily reposition it when you want to try out a different exercise. These features make the Bowflex SelectTech 4.1 bench a great investment for someone keen to enjoy a complete body workout right inside his home at an affordable price.